How to
iOS 16: The right way to Translate Textual content within the Digicam App
You are interested in
iOS 16: The right way to Translate Textual content within the Digicam App
right? So let's go together
Doshared.com
look forward to seeing this article right here!
In iOS 16, Apple has expanded system-wide translation to the Camera app, which means you can use your iPhone's camera to translate signs, menus, packaging, and more in real-time. Keep reading to learn how it's done.

Apple entered the translation game when it released iOS 14 with native Safari browser translation and a dedicated translation app. iOS 15 then extended machine translation to other parts of the operating system, such as adding the ability to translate languages that appear in images in the Photos app.
In ‌iOS 16‌, Apple has taken system-wide translation one step further by adding it to the Camera app, so now you don't even have to snap a picture to translate the text of another language. The following steps show you how it's done.
Open the Camera app by tapping the Camera icon on the Lock Screen or tapping the app's icon on your Home Screen.
Point the camera at some text you want to translate so that it's centered in the viewfinder.
Tap the text selection button in the bottom-right corner of the viewfinder so that it turns yellow.
Tap the Translate button to get an instant translation.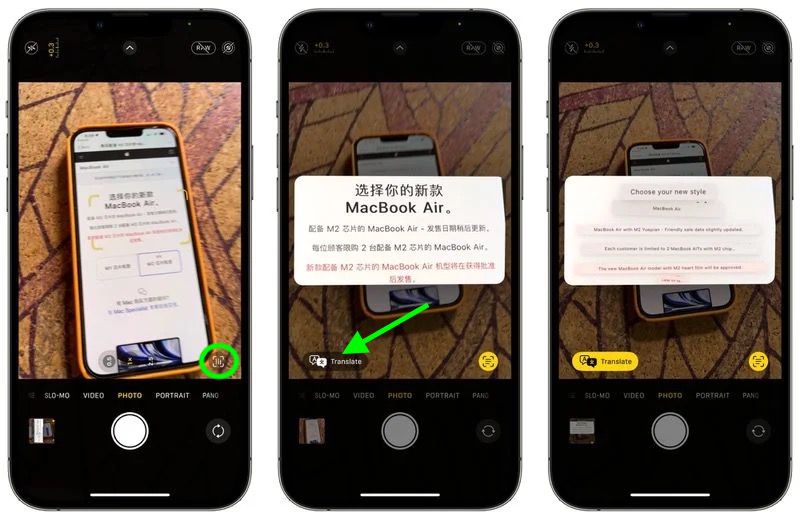 Note that you can tap the translation to bring up an additional menu that shows the original text and the translation underneath, which you can have spoken to you using the play button. There are also options to Copy Translation, Change Language, Add to Favorites, and Open in Translate.
Conclusion: So above is the iOS 16: The right way to Translate Textual content within the Digicam App article. Hopefully with this article you can help you in life, always follow and read our good articles on the website: Doshared.com